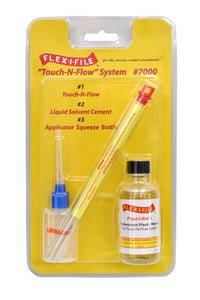 Touch-N-Flow System
Touch-n-Flow System is a 3-piece set including the popular Touch-n-Flow applicator, applicator squeeze bottle and Plast-i-Weld liquid solvent cement.  Use of the squeeze bottle makes a convenient way to fill and empty the Touch-N Flow applicator.
Contents: Touch-N-Flow Applicator, Squeeze Bottle, and Plast-I-Weld solvent cement.
Plast-i-Weld is a solvent cement that softens and melts the plastic (not a glue) bonding time is usually between 10-15 seconds. Full cure is approximately 10 minutes, depending on room temperature.