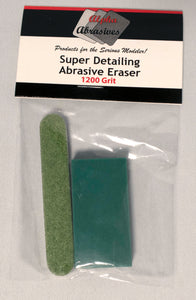 Eraser - Super Detailing Abrasive - 1200 Grit
Abrasive Eraser is a new medium!  Unlike any product currently on the market, the Abrasive Eraser is made of a flexible resin embedded, durable abrasive particles.  This product is ideal for removing tarnish and scratches from metals, eliminating orange peel imperfections on painted surfaces, and is great for fine detailing.  Use this product to create an amazing polished finish one variety of materials.  The Abrasive Eraser can be used wet or dry, is extremely durable and long lasting.
Gently sand the end of your Abrasive Eraser with the dressing stick to expose the grit of your eraser.

Contents: 1 abrasive eraser - 1200 grit & 1 distressing stick.