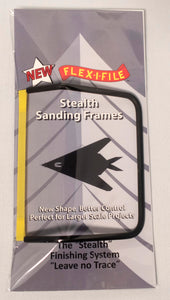 Stealth Flex-I-File Single Frame Set
Unique 45° offset sanding frame with black anodized finish.  This product accepts all Flex-I-File branded tapes and features newly formulated yellow 400 grit abrasive tape.
Developed for the need on larger scale model and miniature projects.  Perfect for all curved surfaces such as 1/32 scale aircraft +1/200 scale boats.  Sand larger carved areas with the same legendary control that Flex-I-File is famous for!
Contents: Single Stealth Sanding Frame.