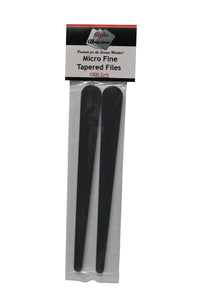 Sanding Files - Micro Fine Tapered - 1000 Grit
These files have a multi-purpose functionality and can be used on a wide range of mediums.  With different tapered end radiuses, these files are able to fit into spaces that a uniform shape would be unable to accomplish.  Whether its buffing up chrome or metals pieces or getting your hobby project ready for painting, these products do the trick.  These sanding files can be used wet or dry and are reusable.
Contains 2 abrasive files 1000 grit.