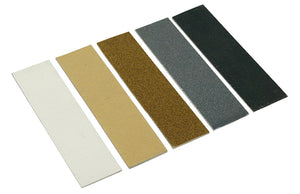 Sanding - Abrasive Sanding Replacement Pallets
Modelers and hobby enthusiasts alike always strive to improve their craft and what better way to achieve perfection than by using tools that are designed especially for precise detailing.
Great for wet or dry sanding.  It will not peel or crack.  It is washable and reusable.  Applications are limited only by your imagination!
This package contains 100, 120, 220, 320, 400 sanding grit pallets.  These are replacement pallets used with the base.