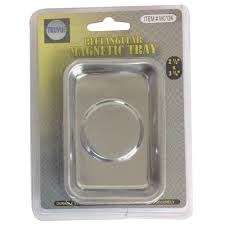 Magnetic Rectangular Tray
The bowl measures 2 1/2" x 3 3/4", and is .5" deep-weighs 3.5 oz.
Keep small parts within reach.  Great accessory to keep your workspace organized. Holds small nuts, screws, dies, pins, etc.  The base is magnetic with a non-slip          1 1/2"" rubber base to protect your surfaces from scratches.