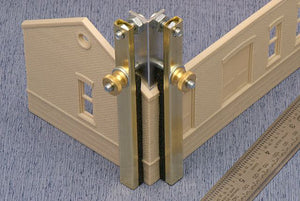 Clamp - Long Right
This line of clamps greatly assist with many types of modeling projects.  
The Long Right Clamp is much like The Original Right Clamp but with the extra length of a 2-3/4" long jaw.
It is compact, light weight, the metal construction holds parts gently but firmly.  The rubber clamping pads protect delicate surfaces and parts while the end screws easily adjust the jaws for part thickness.  Glue is easily applied inside or the back side of joints via the access notches
Product dimensions: jaw length: 2.75" (70mm), overall length: 4.17" (106mm), base angle size: 0.5" (13mm), max jaw opening: 5/16" (8mm), weight: 1.9 oz (54g).  
Jaw Length in Scale Feet: N Scale: 160/1, 36 scale feet; HO Scale: 87/1, 20 scale feet; S Scale: 64/1, 15 scale feet; O Scale: 48/1, 11 scale feet; G Scale: 22/1, 5 scale feet. 
These are made in the USA.