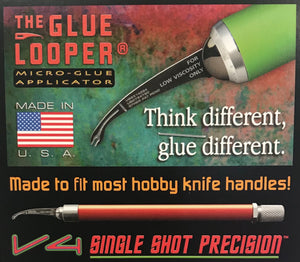 Glue Looper - V4 - Single Shot Precision
The Single Shot Precision runs on capillary action, delivers only a fraction of the glue as our small V2 looper.  It uses a similar action to a quill pen.  Made for EXTREME CONTROL when gluing very small parts.
It fits any standard hobby knife handle that uses a flat clamping front vise.  It can be reused for multiple glue applications.  It cleans very easily - just burn off the old glue with a lighter.  
This package includes 7 applicators.  
Made in U.S.A.