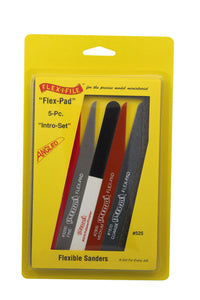 Flex Pad Intro Set
Flex-Pads put a "new angle" on modeling with improved versatility and convenience!  Made of flexible polyester abrasives and containing inner padded support, the Flex-Pad provides evenly distributed pressure over irregular surfaces without digging in or scratching.  Triple-Grit Polisher/Finisher cleans and polishes in 3 easy steps.  All products contained within this kit work well on plastic, wood, metal, and painted surfaces.
Ideal for sanding and blending materials of dissimilar texture and hardness
Double Sided
May be used wet or dry
Reach into tight corners
Clean Up Narrow Recesses
Smooth delicate joints & small fillets
Contents: 5 Flex-Pads (one of each grit we carry).