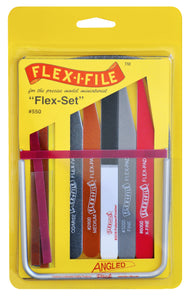 Finishing Set - Flex Set
This kit is a perfect combination of products for the beginner or advanced model miniaturist.  The package includes 1 Flex-I-File frame and 8 assorted tapes plus the complete grit range of Flex-Pads.  All abrasives contained in this package can be used wet or dry.  
Contents: 5 flex-pads (one of each grit we offer), 1 triple grit polisher, 1 anodized aluminum frame, and 8 assorted abrasive tapes.