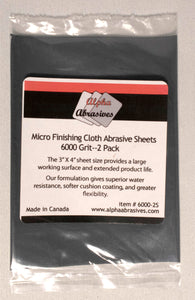 Finishing Cloth - Micro Abrasive Sheets - 6000 Grit
The 3" X 4" sheet size provides a large working surface and extended product life.  With its water resistance, softer cushion coating, and greater flexibility, it is a good addition to your finishing tools.  Our color coded back printing makes easy grit identification possible, now you know exactly which grit you are using!  Micro Finishing Cloth can be used wet or dry, for best results a light mist of water containing a drop of dish detergent for lubrication is recommended.  This product is ideal for painted surfaces, polishing metal, wood, and plastic projects.  
This is a package of 2  3"x4" sheets 6000 grit.