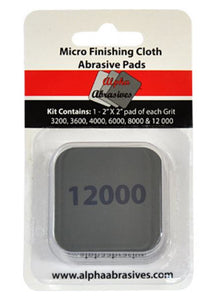 Finishing Cloth - Micro Abrasive Pads - Assorted
Double sided abrasive laminated to a resilient foam core conforms easily to curved surfaces.  Convenient 2" X 2" size pads are printed with the grit number for easy identification and are reusable.  When used dry, microcloth outlasts common abrasives up to 7 times, when used wet microcloth outlasts up to 10 times.
Micro finishing products are not intended for heavy removal, rather, this product helps obtain a professional final finish.  When more aggressive sanding is required to remove scratches and defects, Professional Sanding Film P/N 0201 is recommended before the micro finishing cloth process.  Sanding blocks are not required when using our extra flexible Micro Cloth Pads.

Contents: 1 Micro Abrasive Pad of each 3200, 3600, 4000, 6000, 8000, 12000 grit.