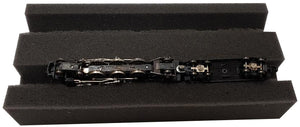 Cradle - Foam Repair - N Scale
Our cradles are made with (15/60) high density foam.  We have designed our cradles to give the ability to work on all sides of your trains with ease.
You have both a "U" and 45 degree channel to maximize accessibility while working on your train.  The "N" scale cradle does NOT have any spacers included. 

This cradle measures 8" x 4" x 1.5".