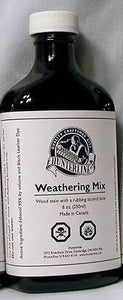 Stain - Cottage White - Weathering Mix
Our 'Weathering Mix' stain is alcohol based. The benefits of using alcohol are fast drying time which helps prevent 'warping' of the wood and it's easy to dilute the mix to get varying degrees of a lighter stain - just purchase a bottle of 70% isopropyl alcohol.  You can get a good effect on plastic, paper, cardboard or hydrocal.  Clean Up - just wash brushes in soap and water.  
Cottage White is a mixture of leather dye, wood stain pigment and isopropyl alcohol. Unlike the other Weathering Mix stains, it is thicker. You will need to shake the bottle vigorously and over time, may need to be stirred with a stick. It can be used over a darker colour. Works great as a 'white wash' for buildings. A popular technique, is applying it to a brick or stone building, wiping the excess off and you have created a great mortar look. It also looks great on rock formations - just 'dab' some on the peaks of your rocks - this hi-lites areas very effectively and of course can simulate snow.
8 fluid ounces (240ml).