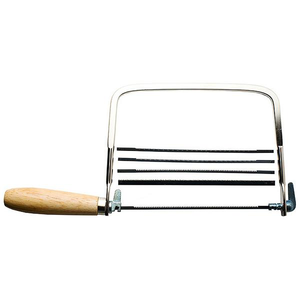 Saw - Coping - with 4 Extra Blades
One of Excel Blades strongest and most reliable saw handles. The Excel Blades Coping Saw handle is designed for perfect accuracy and control for your desired cut. This tool is made for the projects that clearly require more power and precision than most tools you will find at a tool shop.
This saw is best utilized for cutting wood, plastic, rubber, PVC pipe, pumpkin, and thin metal. Adjusting the thumb crew controls on the handle will allow for exact blade tension and precision.
Contains: (1) Coping Saw Handle / (2) #1 Coping Saw Blades / (1) #2 Coping Saw Blade / (1) #3 Coping Saw Blade
7" x 4.5" Deep Saw
This saw handle holds the following blades only: #1 Coping Saw Blade / #2 Coping Saw Blade / #3 Coping Saw Blade