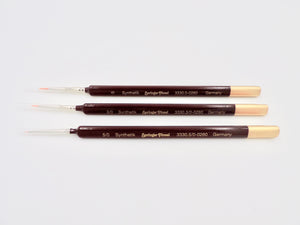 Brush - Flex-I-File - 3 Pack
Flex-I-File brushes are custom fabricated to meet our quality standards.  Handmade in Germany Flex-I-File brushes offer a seamless furrel and lacquered shafts for durable use.  Each brush features a tapered triangular handle providing perfect balance and superior control.  Balanced handles ensures ease of use and comfortable handling when painting and detailing.
Available in a variety of sizes from #3 up to the finest #10/0.  Brushes are available in singles as well as multi packs for best value.
Features unique triangular shaft in sizes 5/0, 3/0 & 0