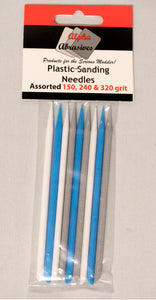 Sanding Needles - Assorted Professional 9 Pack
This product is perfect for getting into those very small areas that are nearly impossible with conventional tools.  Ideal for miniaturists who need a tool for fine detail work, these needles give you great control for precision finishing.  When even the smallest of modelling chisels are too big for some projects, these plastic sanding needles will be a big relief.  Use this product to remove flash (casting seams) in tight corners, compound curves, sculpting miniatures, and decorative work.
Whether you enjoy working with plastic, resin, metal, or wood, sanding needles are designed to make the job easier and give superior results.  Sanding Needles are washable and reusable.  
This is a pack of 8 sanding needles assorted grit.
The coarsest needle is perfect for the initial stage of the finishing process and can be used to remove deep imperfections or surface defects. 
 The medium needle, used next, allows crafters to smooth and eliminate the coarser scratches created during initial sanding. 
Finally, the finest sanding needle levels and smooth's providing a delicate touch that prevents excessive material loss during your final finishing stage.
There are 3 of each grit fine (320), medium (240) and coarse (150).