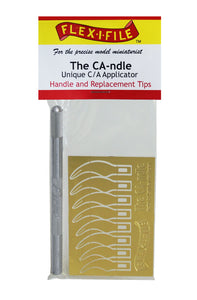 C/A Handle with Holder
A New Take on the C/A applicator!  Draw thin lines of liquid C/A glue with a capillary action designed applicator that fits into our Micro Pin Vice handle.  Ergonomic design with slight angle provides all the comfort needed for fatigue-free operations even during long work shifts.
Contents: Each sheet contains 2 of each size: 0.1mm, 0.2mm, 0.3mm, 0.4mm.