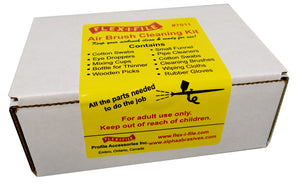 Air Brush Cleaning Kit
Everything you need to keep your air-brush clean (see contents below).  Keep your airbrush in top condition with these important cleaning supplies.
Contents: 20 cotton swabs, 4 eye droppers, 20 pipe cleaners, 4 mixing cups, 1 pair of rubber gloves, 1 small funnel, 1 bottle for thinner, 2 cleaning brushes, and 2 wiping clothes.